Brake pads are an essential component of a vehicle's wheel. Automobile brakes rely on brake pads to create the necessary friction between the tire and rotor, slowing or stopping your vehicle. The specific number of requisite pads for each wheel is based upon factors like the make/model of the car and the type of braking system. Luckily, this article will tell you exactly how many brake pads per wheel are typically needed in vehicles today, as well as explain their purpose plus illustrate all the advantages more brake pads can provide!
How do Brake Pads work?
Brake pads are essentially small pieces of metal that press against a spinning disc or drum when you press down on your brake pedal. This pressure causes friction, which slows the vehicle down, eventually bringing it to a complete stop. The heat generated by this process is absorbed by the brake pad material and dissipated away from the rotor and caliper.
Brake pads must be strong enough to work in hot temperatures. Most brake pads are made of a special material called ceramic. It can handle very high temperatures, up to 1112 degrees Fahrenheit. This type of material also helps the noise and shaking down when you use the brakes.
In addition to being strong enough to withstand heat, brake pads also need to be durable enough for long-term use. To accomplish this, most modern brake pads are also made with metal fibers embedded within the pad material. These fibers help reinforce the pad's structure and give it added strength and durability.
Types of brake pads available
Semi-Metallic Brake Pads
Semi-metallic brake pads are very popular. These are made of a mix of metals, rubber, Kevlar, and carbon fiber. Not only do they provide excellent performance in rainy or dry weather conditions, but they also come at an economical cost point! The downside is that these brakes generate more noise & dust than other varieties.
Ceramic Brake Pads
Ceramic brake pads are a good option if you're looking for something that will last longer than semi-metallic brake pads but still provides good performance levels. They generate less dust and noise than their semi-metallic counterparts, making them a great choice if you value a quiet ride. Nevertheless, ceramic brakes often come with a higher price tag than other alternatives available, so be mindful of that fact when comparing prices.
Organic Brake Pads
Organic brake pads are created from materials such as glass, rubber, or resin-based compounds that are free of metals. They tend to provide superior performance in wet conditions compared to semi-metallic or ceramic brakes but require frequent replacement due to their shorter lifespan. In addition, organic brakes usually don't provide the same level of stopping power as other types, so they may not be the best choice if you frequently drive in inclement weather or on rough terrain.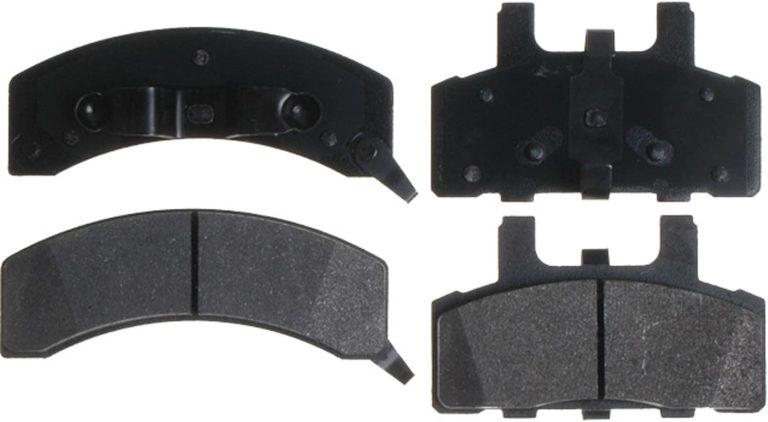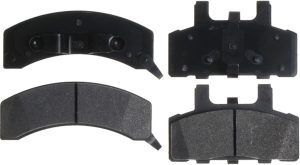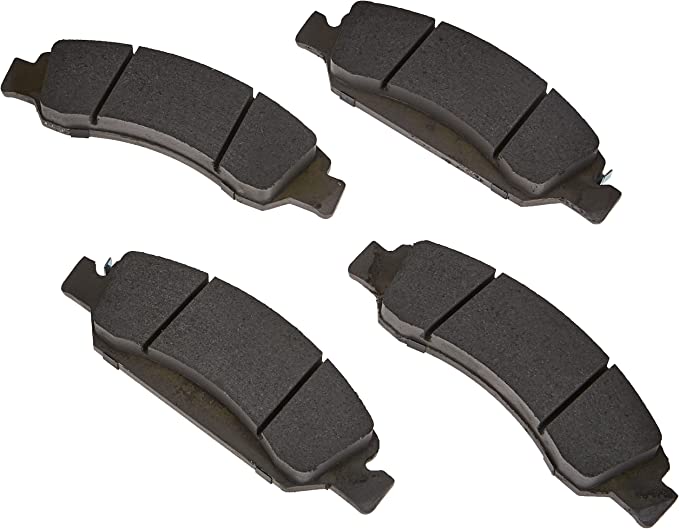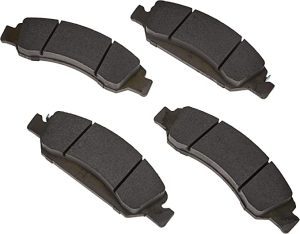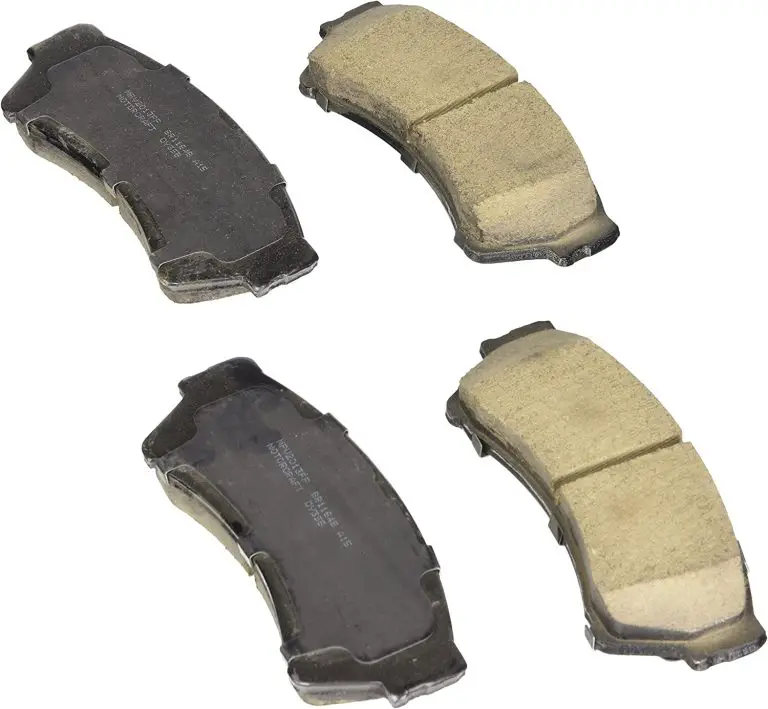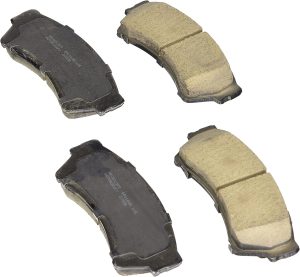 How Many Brake Pads Per Wheel?
Most cars have two brake pads for each wheel. One is called an inboard pad, and it is on the inside of the wheel. The other is an outboard pad, and it is on the outside. When you press down on the brakes, both pads grab onto the wheel so your car can slow down or stop.
Consequently, when you're replacing your car's brake pads, make sure to switch out the inboard and outboard pads for each wheel. In essence, each axle takes a set of 4 brake pads (2 wheels x 2 brake pads per wheel = 4 brake pads).
Disc brakes typically use two brake pads per wheel, while drum brakes use four.
Factors That Determine How Many Brake Pads a Vehicle Requires
The number of brake pads a vehicle needs depends on several factors. The kind of brakes, how often it is driven, and how hot the brakes get can all affect how well the brakes work. In general, disc brakes typically use two brake pads per wheel, while drum brakes use four. Furthermore, the number of brake pads you require is also dependent on how often and with what force you drive. Read on to learn more about how these factors determine how many brake pads a vehicle requires.
Vehicle Type
The type of vehicle is a key element that determines the number of brake pads it requires. For instance, smaller vehicles like compact cars and sedans typically use a disc braking system, which requires brake pads at each wheel. On the other hand, larger vehicles like trucks and SUVs may have a combination of disc brakes and drum brakes. The disc brakes make use of brake pads, while the drum brakes use brake shoes. As a result, these larger vehicles may require more brake pads than smaller vehicles.
Wheel Configuration
Another factor to consider is your vehicle's wheel configuration. Front-wheel-drive vehicles rely on their front wheels for both acceleration and direction, meaning the braking system within these cars experiences greater pressure on the leading axle. Consequently, these vehicles may require more or larger brake pads to handle the increased workload. In contrast, rear-wheel-drive vehicles split the weight of braking force between the front and back axles for increased stability. This means that their brake pad requirements may differ slightly from their front-wheel-drive counterparts.
Driving Habits
Your driving style profoundly affects how often you'll need to replace the brake pads on your vehicle. If you're typically behind the wheel in cities or congested areas, expect them to wear out faster than usual. More frequent use of the brakes means more brake pads are likely to be required. Similarly, if you frequently travel through hilly or mountainous areas where you apply the brakes continuously for long periods, the same considerations apply. On the other hand, if you mainly drive on highways with minimal braking, fewer brake pads may suffice.
Performance and Aftermarket Upgrades
Automobile enthusiasts who make performance upgrades to their vehicles or use them for track days or autocross events will understandably have different brake pad requirements. Drivers who demand higher levels of braking performance often opt for high-performance brake systems with larger brake pads, which can provide increased stopping power and reduced fade during high-speed braking or repeated hard stops.
No matter how experienced or inexperienced you are behind the wheel, upgrading your vehicle's brakes to meet your own driving specifications can drastically improve and enhance your overall driving experience.
Quality and Type of Brake Pads
Lastly, the quality and type of brake pads you use also have a bearing on how many your vehicle requires. Top-notch brake pads made with ideal materials can function for extended periods of time and perform better than low-grade alternatives. There are distinct types of brake pads available, including organic, semi-metallic, and ceramic options, which have different levels of performance and capabilities concerning wear properties. The optimal choice for your vehicle depends on factors such as your driving habits, desired feel, noise preferences, and budget.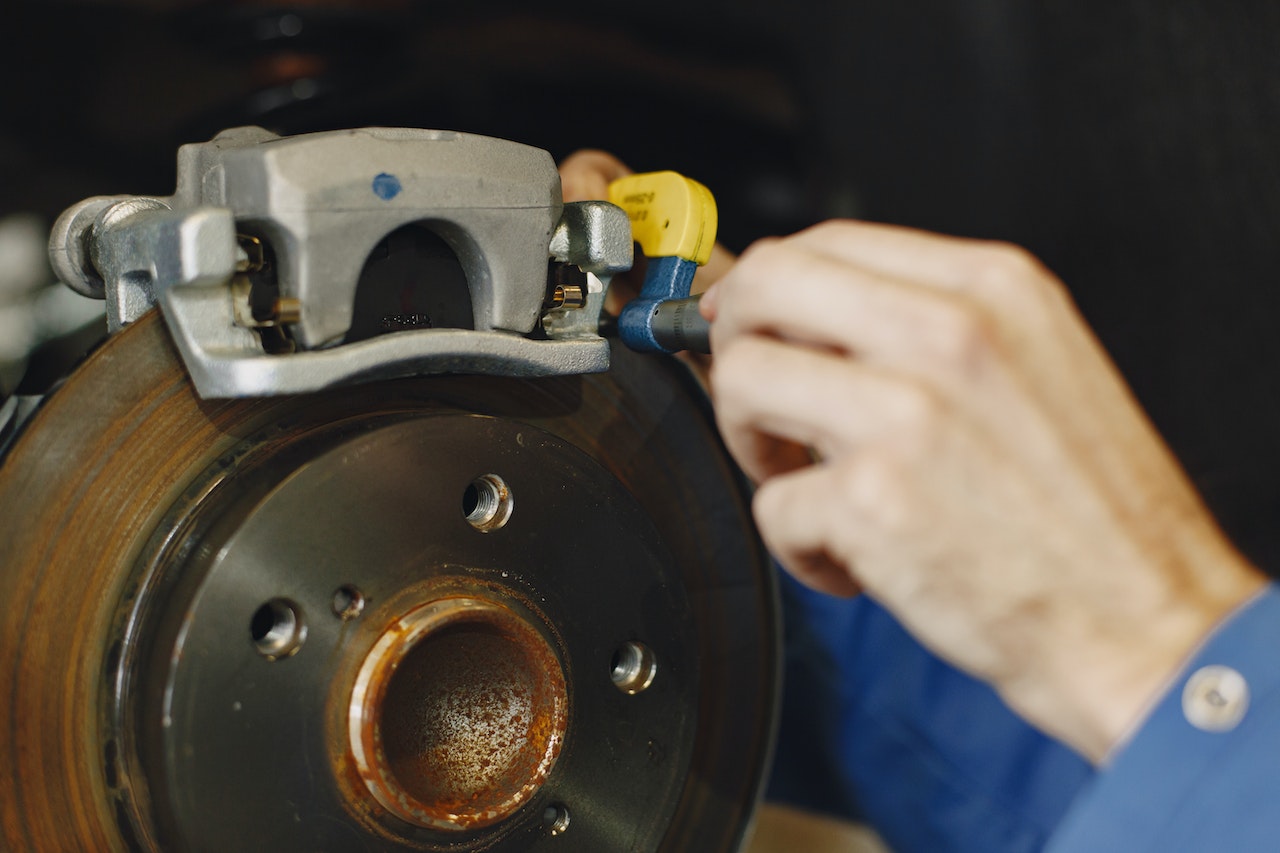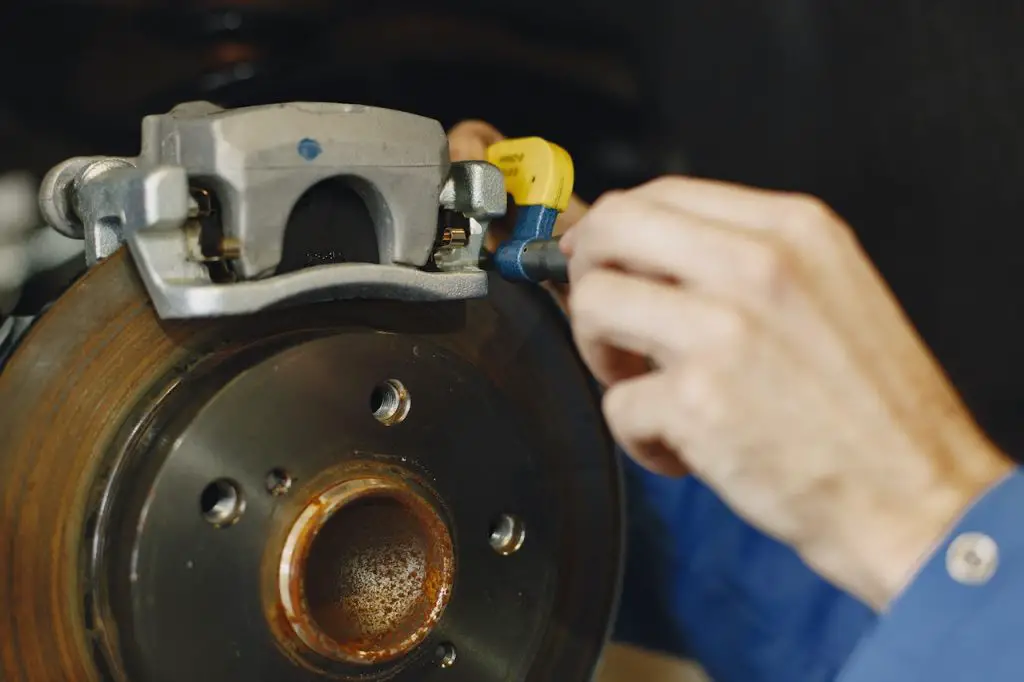 What is the Difference Between Disc and Drum Brakes?
Becoming knowledgeable of the distinctions between each type of brake can assist you in making an educated decision. Let's examine some essential criteria to keep in mind when selecting the ideal brake for your needs.
Disc Brakes
Disc brakes are the most popular type of brakes on cars today. The 1950s saw the invention of these items. They feature a metal rotor connected to a caliper with two pads that press against it when you hit the brake pedal. The friction created by this creates hydraulic pressure that causes your car to stop. Disc brakes are more efficient than drum brakes because they dissipate heat quickly, allowing them to handle more stress without overheating or wearing down quickly. They also provide better overall stopping power than drum brakes.
Drum Brakes
Although drum brakes were once the go-to choice for many, disc brakes, have quickly become favored due to their enhanced performance and extended lifespan. Drum brakes consist of a round drum that is attached to an axle hub and rotates along with it as it moves forward or backward. Inside this drum are two shoes with springs attached to them that press against the inner walls of the drum when you hit your brake pedal, causing friction and slowing down your car. Drum brakes do require regular maintenance but can still be found on some older cars today due to their cost-effectiveness and durability compared to disc brakes.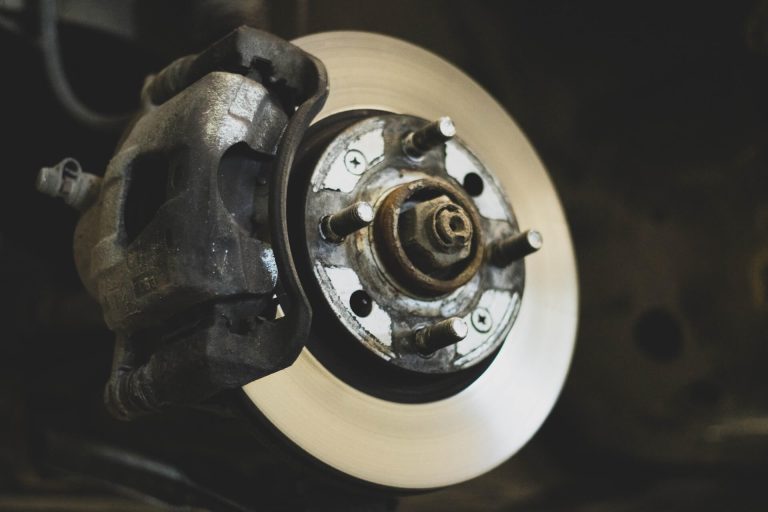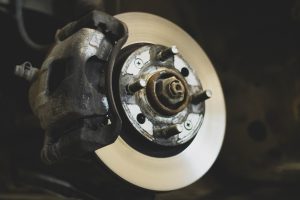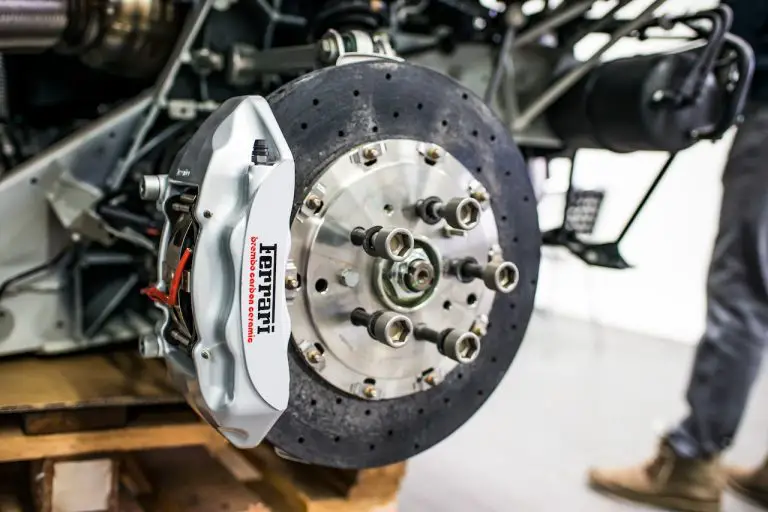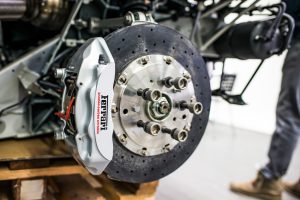 Benefits of Having More Brake Pads
Too often, the importance of brake pads is disregarded; nonetheless, they are indispensable for ensuring your safety on the road. Here are some of the outstanding advantages that come with having additional brake pads!
Better Stopping Power
The main purpose of brake pads is to help you stop quickly and safely. Having more brake pads gives your car better power when you press on the brakes. This means that if you need to stop quickly, your car can do it faster and safer. Having more brake pads also ensures that your brakes won't wear out as quickly, so they can last longer and provide better stopping power over time.
Increased Safety
Having more brake pads means increased safety for both yourself and others on the road. With more brake pads, your vehicle is able to stop quicker and with greater precision when needed, reducing the chances of an accident occurring due to inadequate braking power. Additionally, with increased safety comes increased peace of mind while driving; knowing that your brakes are capable of providing excellent stopping power in any situation can be reassuring and make for a safer driving experience overall.
Improved Performance
Having more brake pads can also improve the performance of your car or truck in other ways as well. For example, having more brake pads allows for better handling when cornering or negotiating turns at high speeds because it increases friction between the tires and the ground for improved traction. It also helps reduce wear and tear on other parts of your vehicle, such as tires, suspension components, etc., which helps extend their usable lifespan.
Increased Fuel Efficiency
When brakes are on their last legs, a vehicle will require more fuel for acceleration and deceleration due to the reduced efficiency of its braking system. This can lead to poor fuel economy, which means higher gas bills for you! Installing new or upgraded brake pads can improve fuel efficiency by enabling smoother stopping and accelerating with less effort from the engine. This will save money on gas and reduce emissions from your car.
Less Noise
Older or worn-down brake pads often make squeaking noises when applied. Newer brake pads can help reduce these noises as they have been designed with improved materials that create less friction when applied to the rotors. This can make for a more pleasant driving experience without all the annoying noise!
Signs of Worn Brake Pads
Grinding Noise
One of the most common signs of worn brake pads is a grinding noise coming from the brakes. If you hear any kind of noise when you apply the brakes, it's time to take your car in for an inspection. It is likely that the pads have worn down and need replacing. You should also check for any visible damage, such as rust or holes in the rotors and other components.
Vibration While Braking
Another indication of worn brake pads is a vibrating or pulsating brake pedal when you try to stop your vehicle. This unsettling sensation means that the brake pad surface may have worn unevenly, causing a disruption in the contact between the brake rotor and the pad. Sometimes, the vibrations might stem from the brake rotor being warped or the suspension component being worn. No matter what, when your brake pedal starts to vibrate, it's essential to have a professional inspect it and find out why the issue is occurring.
Pulling During Braking
If you experience your car pulling to one side while stopping, this could suggest that there is unequal wear on the brake pad between each side. This is caused by an imbalance in power between the left and right wheels while braking; if left unchecked, this can cause serious damage to your steering system over time. If you experience pulling while braking, it is recommended that you get your brakes checked immediately.
Longer Stopping Distances
If you're noticing that your vehicle takes longer distances to stop than usual, it can be a sign that your brake pads are wearing down. Ideally, you should replace your brake pads once you reach about 25 percent of the pad life. This proactive approach helps prevent further damage to the braking system (rotors, calipers, etc.) and ensures more consistent braking performance.
Dashboard Warning Lights
Modern cars have special sensors inside them. These sensors check the car, including the brakes, all of the time. Some cars have a specific dashboard warning light that may indicate worn brake pads, while others may show a generic warning light. Either way, do not ignore these warning lights, as they generally signal that it's time to service the brake system.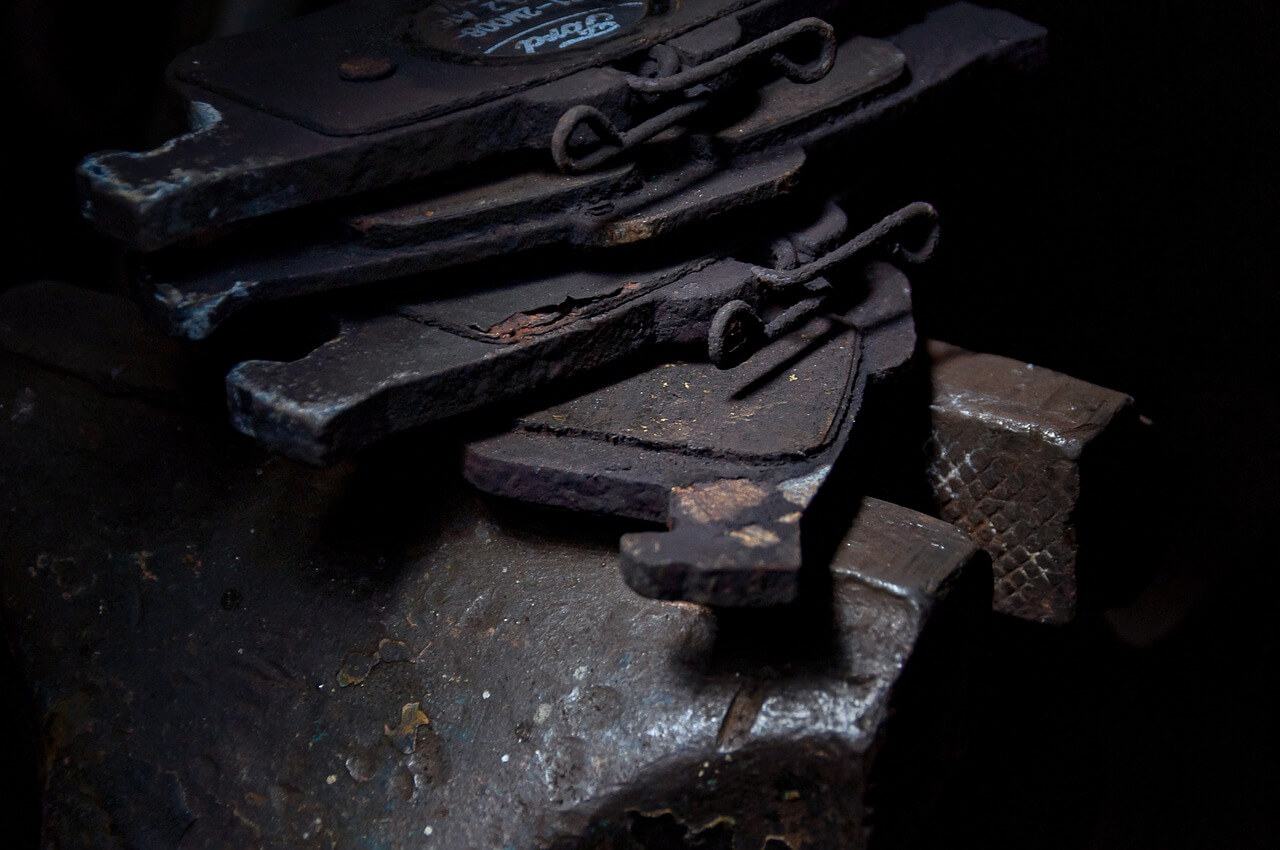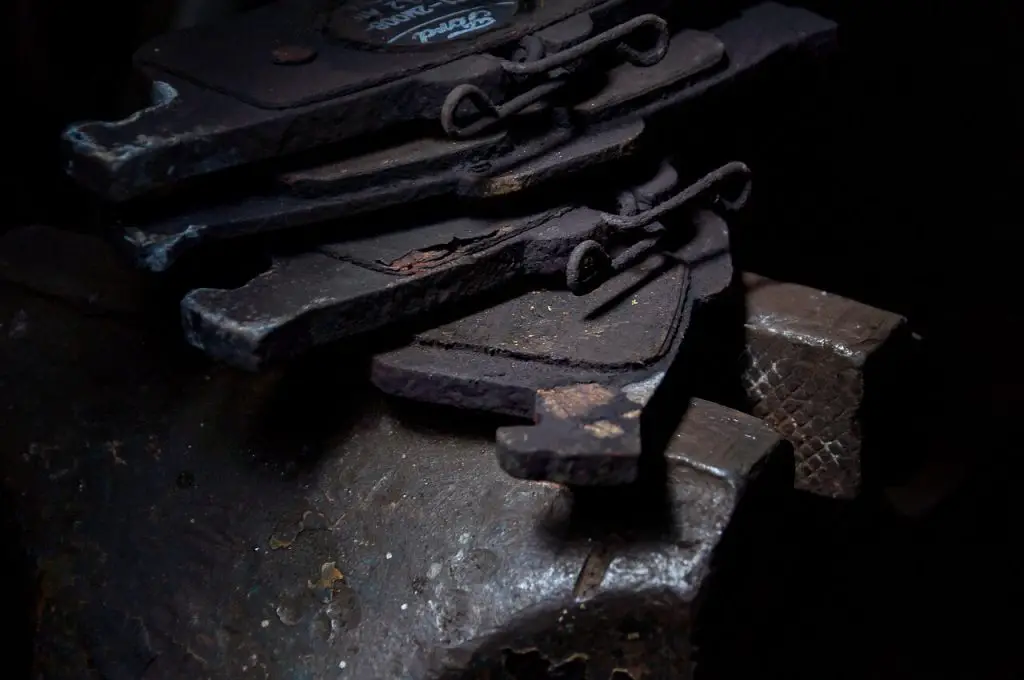 FAQs
How Many Brake Pads Come in a Box?
The count of brake pads inside a package fluctuates based on what type of automobile and the variety of brake pads you are purchasing. Generally speaking, most sets of brake pads will include four pads – two for each side of the axle – but some may come with more or fewer than this. When shopping for pads, it is essential to double-check the box and ensure that you know how many are included; this detail should be clearly indicated by the manufacturer.
How Many Brake Pades Does a Car Have?
Most cars have four brake pads. Two are for the front wheels, and two are for the back wheels. Some cars might have more than four if they have special brakes like ones on fast cars or ones that drive on all four wheels. It is important to consult your car's manual or other resources to determine exactly how many brake pads your car has.
How Much BMW Brake Pad Replacement Cost?
The cost of replacing the brake pads on a BMW can vary depending on the specific model and type of brake pads used. On average, a basic brake pad replacement for an older BMW will cost about $200 to $400 in parts and labor. For newer models, prices can range from $400 to over $800 for all-inclusive repairs with parts and labor included.
Do Rotors Come in Pairs?
Yes, rotors come in pairs – two for the front wheels and two for the rear. When replacing brake pads, it is almost always necessary to replace both rotors on the same axle. This helps ensure that all components are functioning correctly and consistently, providing greater braking performance and safety.
Conclusion
Brake pads play an essential role in keeping your vehicle safe, so it is important to remain vigilant of their condition and replace them when necessary. Having the right number of brake pads per wheel is also critical to ensure optimal braking performance and safety. If you notice any changes in braking behavior or dashboard warning lights, be sure to have your brakes inspected right away. With regular maintenance, you can ensure the optimal performance of your braking system and promote safety for all on the road.